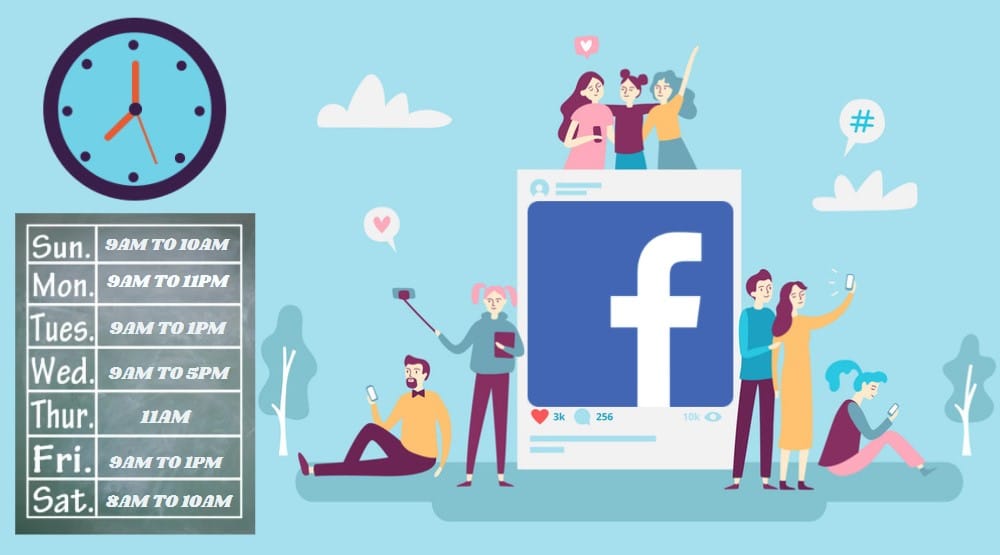 What are the Best Times to Post on Facebook in 2022?
The Best Times to Post on Facebook and The way you manage your business Facebook account is very different from the way you manage your personal Facebook account. If you have a business account and your Facebook business page (and possibly a group) posts content that you think will be of interest to those who follow you. You can promote your brand and its products in some (but not all) of your posts.

If you don't pay for Facebook advertising, it can be difficult to maintain visibility on Facebook.
Currently, business posts on Facebook receive little organic reach due to the current algorithm that promotes posts from friends and family.
The Best Times to Post on Facebook, one of the most effective strategies is to pick the right time of day. If you post when only a few of your potential customers are on Facebook, your post will be old news once they reach the internet.
Recently, we looked at ways to make your social media posting schedule more efficient. To generate high engagement, we briefly examined when you should post to each of the leading social networks.
Our post examines Facebook in more detail and offers some suggestions for brands in particular industries.
What are the Best Times to Post on Facebook?
We will now show you the details of the best times to post to Facebook and how you can manage it in smmfansfaster:
Overall Best Times to Post on Facebook
In life, as in most things, there is no simple answer to the question of the Best Times to Post on Facebook. There has been a great deal of research on this subject, but the results are all different.
After surveying their clients' Facebook posts, Spring Social made some general conclusions. All of their times were expressed in Central Time (CST). The results may be similar if you use the same timezone as the bulk of your target market.
The main conclusions of Sprout Social were:
You should post on Wednesday between 11am and 1pm.

Wednesday is a good day to post.

During the weekdays from 9 am to 3 pm, you will receive the most consistent engagement.

On Sunday, engagement is at its lowest.

Early mornings and evenings before 7 a.m. and after 5 p.m. each day have the lowest engagement
Facebook posts are more likely to be noticed midweek, between midmorning and midafternoon. While most people are having their morning teas, lunches, and afternoon teas, they are probably checking their Facebook apps.
Interestingly, people do not check Facebook as much during the weekends or at home in the evenings.
Read also: Instagram followers website
Different People Use Facebook in Different Ways
CoSchedule took a slightly different approach. Using 25 studies, they determined the best times to post on Facebook in various industries. The study found significant differences between industries when it comes to Facebook usage.
Although they did find some general conclusions from the surveys, many of them confirmed those of SproutSocial.
Hootsuite recommends posting between noon and 3 pm on weekdays

In a slight variation, Hubspot says that 1 to 4 p.m. is generally the best time

Similar to Falcon.io, the most engagement occurs between noon and 4 pm

While Unmetric moves engagement to between 9am and 2pm.

TrackMaven says the best times to connect are 8 p.m. every Thursday

Evening, but there is one thing that comes through loud and clear. Facebook is used in various ways by different people, so finding the best time for your Facebook audience requires more precise methods.
Finding Your Best Time with Facebook Insights
Facebook Insights can help you determine the best time to post to your social audience on Facebook.

However, you will need to have a Facebook page to access this information. At the top of your page, you will find a link that will direct you to your insights.

You can use this data to identify the times when your Facebook audience is most active.

Additionally, Facebook Insights shows you the most successful posts you've made (further down the page).

If you click on the date, you will see the date it was posted. You may want to consider posting at similar times more often.
Suggested Best Times by Sector
The posting times on Facebook have been separated by sector in several studies. They found that optimal times differ according to the industry in which your firm operates.

Reports have been published by CoSchedule and Sprout Social showing how different types of businesses experience different peak social times.
Read also: Youtube subscriber increase website
Using Social Media Marketing Platforms to Post at the Best Time on Facebook
Some social media management platforms allow you to schedule your Facebook posts at the best times. We have reviewed a number of these platforms previously.
Scheduling your social media posts ahead of time is one of the most important purposes of a social media marketing calendar. The posts do not have to be made while you are online. This means you can schedule them whenever you want.
This article explains how to select post times based on research, or you can use your own social analytics to determine when your followers are most likely to be online. In some cases, these platforms will even recommend the "best" times for you to post.
PromoRepublic
PromoRepublic places a strong emphasis on design. You can schedule specific posts based on the type of content you produce.

You can modify the schedule that PromoRepublic suggests for posting to each of your social media networks to suit your needs. For each social account you can choose a time zone and country.

With the help of the centralized calendar, you can organize your posting schedules. You can rely on PromoRepublic's Autopilot feature if you do not want to choose your own timeslots.

You can use this tool to determine the peak engagement of your page audience. It suggests the best times and types of content for your audience based on their preferences.
Read also: The best smm panel for tiktok
Loomly
The first thing you need to do when setting up Loomly is to create a calendar, which includes your time zone and industry.

Zoomly gives you the option of scheduling posts directly or through Buffer.

This allows you to schedule your Facebook posts at the exact time you want them to appear.
Buffer
The buffer service is straightforward. Once you've linked your social media accounts, you can schedule posts to each account. Y

You add items you wish to share to a "buffer," and the software posts them on your behalf at the appointed time.

Each social media account has a publishing schedule that you set up.

As a result, you won't have to worry about post dates or times when creating posts - Buffer will place new posts in the right queue automatically.

With a paid plan, you will be able to access Analytics regarding your posts and social media accounts.

You can use this information to determine the best time to publish your Facebook posts.
Read also: Youtube subscriber sites